We are pleased to announce opening of state of the art newly constructed plating facility in Tong Xiang.
Adding metal plating to our product portfolio further plays an important role in our strategic road map of bringing value to our customers in offering end-to-end interconnect solutions.
The recent investment in this facility includes state of the art plating equipment
Barrel Plating
Rack Plating
Reel to Reel
As well as cleaning, tumbling and drying equipment inclusive:
Ultrasonic Cleaning
Acid Etch
Pickling surface treatment
Sand Blasting
Set up in accordance with best practices of meeting environmental legislation and providing superior quality plated parts.
Excellent engineering, material science and management teams are in place to innovate and solve customer specific challenges with tremendous experience and knowledge of materials and plating finishes support critical solutions. The team is on hand to provide product knowledge and advice in selecting the most appropriate plating finish for a particular application.
Plating upon connectors & components with base metals of:
Aluminium
Zinc
Mild Steel
Brass
Bronze
Beryllium Copper
Zinc Alloy
With Plating finishes of:
Zinc
Nickel Chromium
Zinc Cobalt
Nickel
Tin
Silver
Black Zinc
Black Silver
Gold
A full and diverse range of application methods are offered including jigged parts, rotating and vibrating barreling parts, as well as selective surface plating.
Our experienced quality team has access to the latest state-of-the-art analytical technology including x-ray fluorescence equipment for the determination of plated metal thickness and zinc alloy analysis, an atomic absorption spectrophotometer. Our plating facility exceeds or meets the most stringent international standards such as Mil, ASTM & AMS.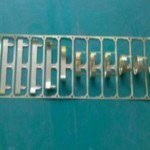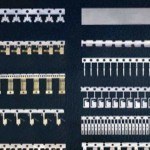 Line 1:  Reel to Reel
Application
Product: Electronic connectors ( connector terminal) Netcom, SIMcard, RJ, Power pin.
Substrate: Cu, Iron,stainless steel.
Deposition layer :Cu , Ni , Sn / Au
Tank size: ( W25*H30 cm)
Max. capacity: 6KKpcs/24hrs
Feature:Fulfill both full &selected Au plating feasibility
Line 2:  Barrel Plating
  Application
Product: Electronic connectors ( connector terminal D-SUB shell,HDMI latch, screw and nuts, which can be applied on the small parts (non- cosmetic parts).
Substrate : Cu, Iron
Deposition layer : Cu , Ni , Sn ( Matt / Bright )
Max. capacity: 5,000Kg/24hrs
Line 3:  Rack Plating
Application
Product:Big parts which can't be done over the barrel plating, cosmetic  requirement  feasibility.
Substrate: Cu, Iron, Zinc-alloy, aluminium alloy
Deposition layer : Cu , Ni , Cr, passivation treatment
Max. capacity: 150Kpcs/24hrs
Feature: combo design for both Zinc
Alloys & Aluminum Alloys
Reserve the capability for the cosmetic part

The Range of Electroplating License Approved:
Gold plating (Nickel, Tin, Pd/Ni, etc.)
Silver plating (Nickel, Tin, Pd/Ni, etc.)

Reel to reel
ABS Plastic (Nickel,Chrome3+, etc.)
Rack

Zinc alloy (Nickel, Chrome3+, etc.)
Aluminum Anodizing