THERMOSET PRIMARY & JACKET
A big differentiation between LOROM and other cable manufacturers is our vertical integration platform.
Thermoset Rubber insulated and jacketed cables are no exception, with significant investment and resources applied into establishing an in-house R&D department as well as a state of the art compounding facilities this investment enables us to compete in all styles and variations of thermoset rubber insulated cables.
We compete with the best and are on even par with even the biggest producers of rubber thermoset cables in the world.
Our Hangzhou facility has the state of the art modern rubber compound plant, which includes several modern high performance mixers, automated weighing system and a device for semi- automatic transport and collection of rubber compounds.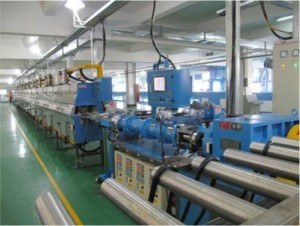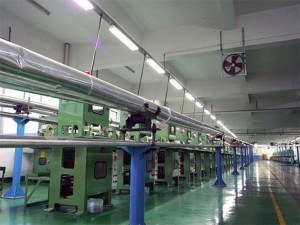 Our rubber compound production is controlled with in house developed software and process control equipment.
With 25 years of experience in high quality rubber and rubber insulated cables combined with our compounding department developing custom materials that meets or exceeds the most stringent requirements.
Examples are, cables working in rigorous conditions such as mines, have rubber sheaths which are flame retardant, tear and abrasion resistant, water, oil and resistant to many other chemicals.
Rubber compounds used for manufacturing of rubber insulated/sheathed cables are based on synthetic compound such EPDM, EVA, SBR CPR chloroprene, natural rubber formulated and processed designed to meet the customer application.
LOROM's manufacturing facilities are equipped with six continuous vulcanization (CV) Thermoset extrusion lines with the capability of extruding up to three layers of materials in one operation.
All of our extrusion lines are equipped with camera systems that allow the operator a visual look throughout the line and an instant overview of all critical components. Advanced instrumentation, temperature controllers and monitoring devices gives LOROM absolute control of all critical steps of the production process, ensuring the highest possible quality of our Thermoset jackets and finished goods. Extruded thermoset vulcanized tubes for ducting and routing applications is available upon request.
Our wide product offering of Thermoset cables, starting from nominal voltage of 100V up to 10kV and conductor cross-sections from 0,25 mm² up to 90mm². Conductor count of up to 50 cores.
We produce and test our cables to the highest international standards such as UL, DIN VDE BS (British Standard), ASTM (American), NF C (French), SANS (South African).