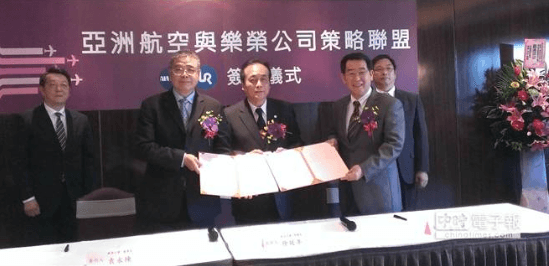 Lorom is celebrating the signing of the aerospace alliance with Taiwan based AirAsia at the Taipei world trade centre.
Front row from left, Chairman of Lorom – YT Yuan, Aerospace Association Director – Xu Yannian, AirAsia Chairman – Chang Siwei exchanged at the signing ceremony.
Lorom is delighted to announce the signing of the strategic aerospace alliance agreement with AirAsia company Ltd (a provider of aircraft maintenance, repair and overhaul – MRO – services headquartered in Taiwan). This collaboration will enable the regions aerospace industry to source certified product from a qualified Taiwanese source.
Lorom is a global leader in the manufacture of cable & harnesses and its model of vertical integration allows the company to control the not only the cost but enables a tighter control on the quality and traceability of its products. Lorom's reputation as renowned leader of innovative was further strengthened by the company's recent achievement of becoming the first Chinese facility to be included in the QPL for the one of the United States military cable specifications.
Also present at the ceremony was airline President Liu Ruicheng, Vice President Li Zhonglin, Director Cui Renjun, Lorom Vice President of Aerospace Technologies – Cao Liguang (David Tsao), accompanied by Lorom General Manager of Aerospace Technologies –  Liu Shilin (Peter Liu).